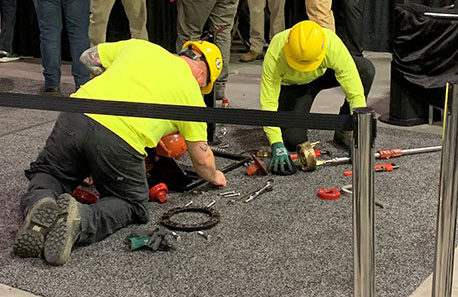 Two Team members of WhiteWater, a water utility operations and management company located in Charlton, MA, will be participating in the Hydrant Hysteria Competition at the American Water Works Association Annual Conference & Exhibition (ACE) in San Antonio, TX from June 12 – 15, 2022.
Corey Jacques and Dylan Bracewell, Service Technicians, for WhiteWater's Southbridge Water Department team, qualified for the national competition during the Hydrant Hysteria regional contest in April at the New England Water Works Annual Conference and Exhibition at the DCU Center in Worcester.
Hydrant Hysteria is a fast-paced competition where two-member teams assemble a specified hydrant as quickly as they can. Corey and Dylan came in second in the regional competition which qualified them for the nationals where they will be going up against other teams from across the nation. The first-place team at ACE '22 will have their expenses reimbursed to compete in the following year's contest at the AWWA Annual Conference.
The competition is a measure of the team's skill at assembling a hydrant quickly, totally, and accurately. All parts will be assembled in the proper manner and the reassembled hydrant shall be tested by the judges for its ability to operate correctly. Each team is required to completely assemble a hydrant commonly utilized by a utility. It is a timed event with multiple teams assembling a hydrant at the same time.
This is the second time, in four years, that a WhiteWater team, is competing at ACE. The first was in 2018.