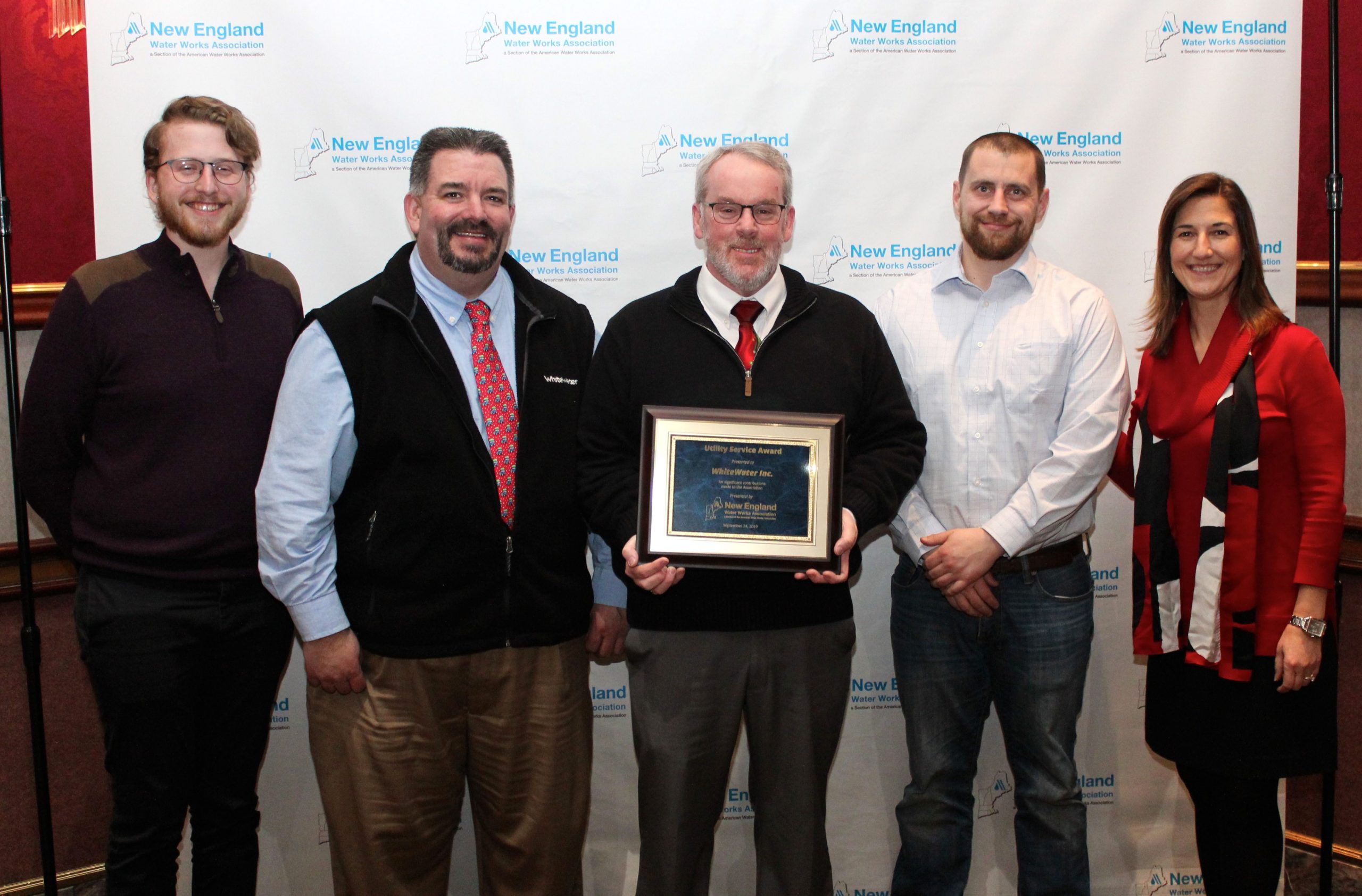 WhiteWater was named the 2019 Utility Service Awardee by the New England Water Works Association (NEWWA), the region's largest and oldest not-for-profit organization of water works professionals. The award was presented at NEWWA's Membership Meeting in late December.
This award recognizes utilities that have significantly contributed to and supported the association by participating in committee activities, developing and presenting training sessions and other member programs, providing volunteer services, and offering material and financial resources.
Celebrating 40 years of business in 2020, WhiteWater, the utility operation and management subsidiary of the R.H. White Companies, has long been a major proponent of employee participation in NEWWA; providing its team members the time and resources necessary to volunteer and give back to the association and its causes including its partnership with Water for People – a clean water charity that has helped millions of people across nine countries get access to clean water.
"I am very proud that we have received this honor and am grateful to our wonderful team of employees who have taken leadership roles in the association including its scholarship committee and its young professionals program as well as its innovations and lab operations committees to name a just a few," stated Stephen Donovan, General Manager of WhiteWater.
Another program that WhiteWater helps sponsor and staff is the association's Hydrant Hysteria Contest; a competition where teams of two assemble a hydrant as fast as possible. The winning team(s) will be sent to Orlando for the American Water Works Association's Annual Conference & Exposition (ACE20) where they will represent New England and NEWWA in the national competition. WhiteWater had a team move on to participate in the ACE18 event in Las Vegas and will have one – perhaps two teams – participating in the local competition which takes place on April 1, 2020 at the DCU Center in Worcester, MA during NEWWA's Annual Spring Conference and Exhibition.
WhiteWater will also be exhibiting at the conference in booth #1009 which is located on the right-hand side as you enter the exhibit hall.